Sambok & Tangogi Soup
Food Culture
The hottest period of summer is called sambok in Korean.
From olden times people went to summer resorts and prepared seasonable dishes.
As a proverb says, Like cures like, they ate hot tangogi soup, samgyethang, spicy beef soup, aduzuki bean congee, boiled barley rice and leek soup.
Tangogi soup is prepared with slices of well-cooked tangogi garnished with minced skin, oil, seasoning herbs, garlic, and powders of red and black peppers and served in boiling hot tangogi broth.
Samgyethang is a dish of jugged young chicken with insam, jujube, glutinous rice and other ingredients.
Spicy beef soup is prepared specially for those who find tangogi soup disagreeable.
Beef soup is usually served without hot pepper, but during the midsummer days it is served hot.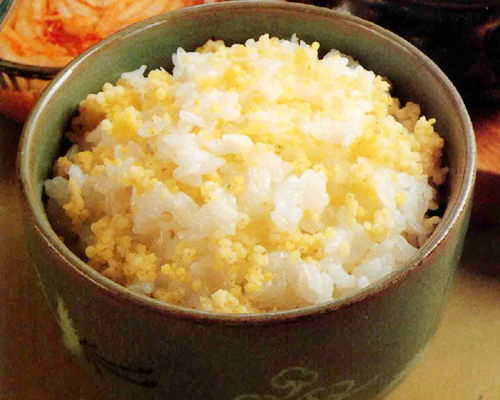 Boiled millet rice
Koreans have eaten tangogi soup with boiled millet rice.
Once the millet rice is boiled, it becomes less soft than polished rice and also remains hot for a long time.
For this reason, boiled millet rice goes well with tangogi soup which has its peculiar taste only when it is eaten hot.
Another reason is that boiled millet rice is more aromatic than other boiled cereals so that the savoury taste of the soup is felt better.
Foods
4